(2) Kitamura My Center H-400 cnc Horizontal Machining Center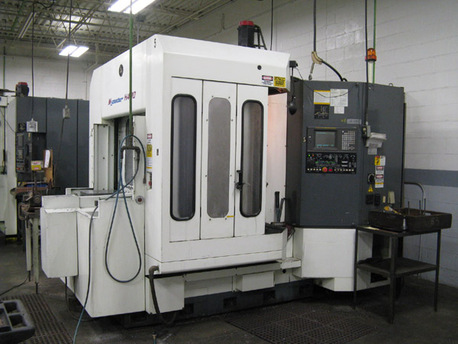 Pallet Size 15.7" X 15.7"
Spindle Speed 10,000 RPM
X Axis Travel 24"
Y Axis Travel 20"
Z Axis Travel 20"

---
HAAS SL20 CNC Lathe w/barfeeder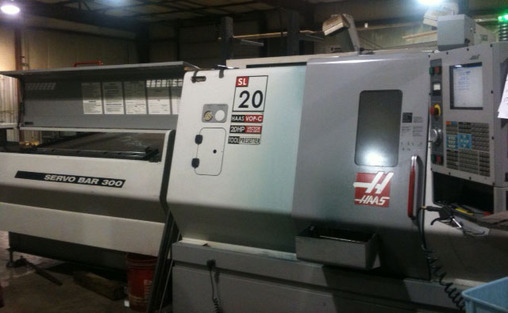 2" through the spindle,
Maximum Turning OD 8"
Maximum Overall Length 12"
Spindle Speed 3000 RPM

---
HAAS Mini Mill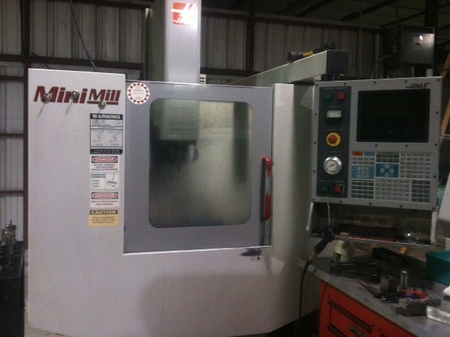 Travel 12" x 16"
Spindle Speed 6000 RPM

---
Haas ST20 Big Bore CNC Lathe w/barfeeder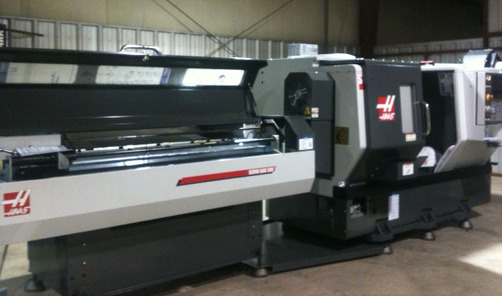 .2-1/2" Through the spindle
Maximum turning OD 12"
Maximum overall length 18"
Spindle Speed 2500 RPMCNC Lathe, 15" x 21" (381 x 533 mm) max capacity, 31.75" (806 mm) swing, 20 hp
(14.9 kW) vector drive, 4000 rpm, A2-6 spindle, 8.3" (210 mm) chuck, 12-station
bolt-on turret, 15" color LCD monitor, memory lock keyswitch, USB port and rigid
tapping. Standard toolholder kit included with BOT or Hybrid turret.
---
Republic CNC Plus Lathe RL-1440-TW-CNC Plus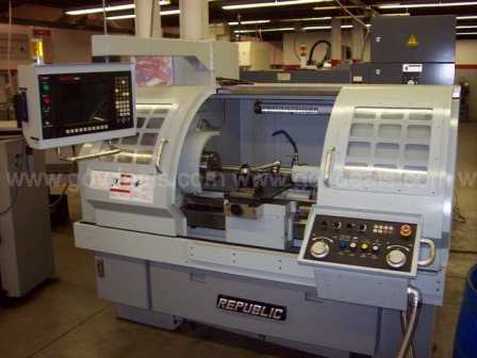 -Tri-way Design, with three (3) Vee ways, maintains perfect alignment of
carriage on bed!
-Massive base is 1-piece Meehanite casting (no pedestals or
sheet metal).
-Dovetail carriage and cross slide ways are Hardened &
Ground.
-Headstock gears are Hardened and precision ground!
-Four matched
vee belts are used instead of standard set of three. The EVS drive and main
drive motor are dynamically balanced to optimize torque/horsepower in both gear
ranges.
-A 3-bearing alloy steel spindle is mounted on opposed Timken taper
roller bearings.
-Special tailstock design with increased throat
depth.


---
Haas VF 3ss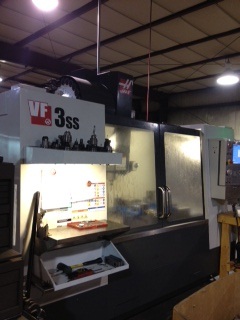 Super Speed Vertical Machining Center; 40" x 20" x 25" (1016 x 508 x 635 mm), 40
taper, 30 hp (22.4 kW) vector drive, 12,000 rpm, inline direct-drive,
high-speed 24+1 side-mount tool changer, 1400 ipm (35.6 m/min) rapids, 1 MB
program memory, 15" color LCD monitor, USB port, memory lock keyswitch, rigid
tapping and 55-gallon (208 liter) flood coolant system.
---
Other Misc Equipment
A few of our secondary pieces for finishing equipment include Drill Presses, Saws, Grinders and Mini Vibe.